Festival
12 Août
FESTIVAL EN GÉVAUDAN : DANCEPERADOS OF IRELAND + PLANTEC + JEAN CHARLES GUICHEN
Avenue du Gévaudan, 43170 SAUGUES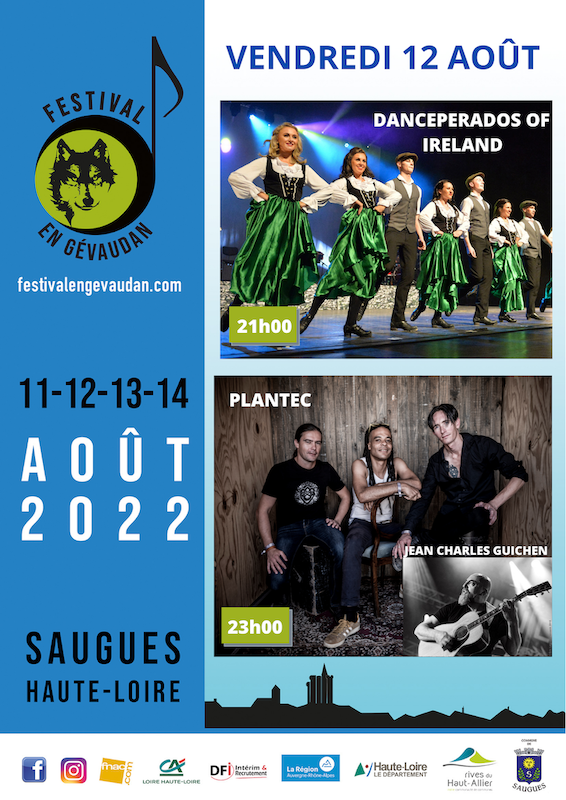 Concert IN :
DANCEPERADOS OF IRELAND à 21h
Danceperados of Ireland propose un concept créatif qui mêle l'histoire avec l'art irlandais.
Les chanteurs et musiciens du groupe ont déjà accompli une carrière solo réussie.
Michael Donnellan, le chorégraphe de Danceperados, a été deux fois champion du monde de danse, il est considéré comme l'un des dix meilleurs danseurs irlandais actuels.
Danceperados of Ireland, c'est 1h30 de spectacle authentique de musique et de danse irlandaises, dans un esprit authentique et libre.
JEAN CHARLES GUICHEN à 23h
Guitariste hors pair, sa grande maîtrise instrumentale lui a notamment permis de jouer aux côtés d'artistes comme Alan Stivell.
A travers son spectacle Le solo de l'Ankou, Jean-Charles Guichen nous invite à danser au cœur d'un fest-noz, grâce à des compositions originales et d'inspiration traditionnelle, où virtuosité et énergie rock se côtoient.
Incontournable de la nouvelle scène bretonne, Plantec a su au fil des 15 dernières années imposer sa vision unique du Fest Noz en renouvelant perpétuellement son univers.
En 2020 Plantec a sorti un nouvel album « Trad Electro » composé en Bretagne mais aux sonorités des 4 coins du monde !
Soumis par Festival en Gévaudan